I start a part time job on Friday, which is perfect.

I got my graduation present, and am now no longer in the red.

I have paid back my friends and will soon be able to pay back my family

I invested in a Hollyoaks Dance workout DVD. One day I will look like the blonde one who shagged her student.

I didn't want to go out with him. That doesn't make me a bad person.

So, that is, indeed, that. London next Friday to see Spamalot and that convention that Tim and Graeme will be at. Will be great to see the girls again, too.
Following my previous entry:


I don't have any money at all

I owe my friends, family and flatmates lots of money

I'm putting on weight like it's going out of fashion

I fucked up a perfectly good burgeoning relationship

I need to get my act together and sort my life out.
I don't have a job
I just got a mother fucking 2:1! Booyah!


UK Whose Line is definitely an awful lot ruder than its American brother. And Chip Esten is the cutest thing I've seen in a long time. If it was legal, I'd buy him and keep him in a cage at the bottom of my bed and throw Skittles at him as payment for him singing and dancing at my command. I'm not ashamed at the tiny thrill I got hearing him sing the word 'bitch' during that last episode.

Commercials are finished and this next one has Greg in it, so I'm going to go drool uncontrollably cos I have an unaccountable taste in men.
Double Whose Line on Dave. This is why I come home. I don't realise how much I miss having a decent telly until I get home and succumb to the urge to sit, slack-jawed, vapidly taking all and any nonsense I come across.


What I do with life:
Predominately, I wait
In a state of flux.

Yeah.
I thought it appropriate to sum up my life at this moment in time in the form of a haiku:
I also found this photo I took after a night running manically about the beach with KtB. We paused to admire the view and think deep, and, no doubt, meaningful thoughts. This is where I come from: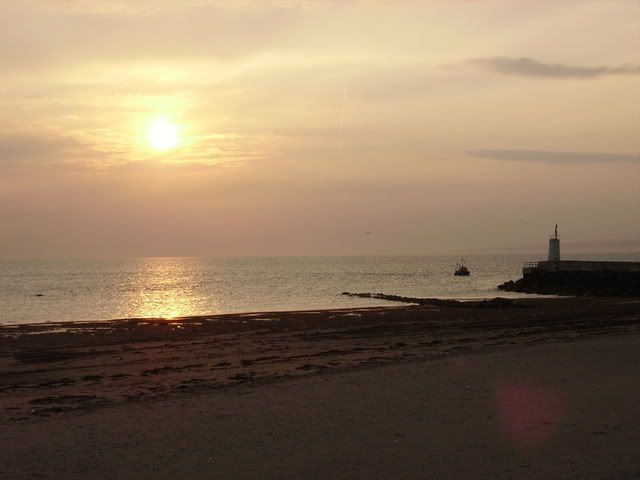 I had one of those ground-breaking, eye-opening chats with Bean tonight. All defences down, we chatted honestly about things we'd never mentioned before. She learned something important about me and I learned something important about her, and neither of us can understand why - having lived together for two years - we didn't share this earlier. I feel very good about this. I'm hopeful.


This phrase, from his most recent book, is on his website's homepage, and I feel it encapsulates Humph's spirit right til the end:

"As we journey through life, discarding baggage along the way, we should keep an iron grip, to the very end, on the capacity for silliness. It preserves the soul from desiccation"

- Chairman Humph in introspective mode.

Humphrey Lyttelton 1921 - 2008
Humphrey Lyttelton, arguably one of the finest men to grace our radios and, indeed, our lives, passed away today. I think everyone who came across him - whether it be through his jazz music, or through his wonderful role as chairman for I'm Sorry I Haven't A Clue, or his many other careers throughout the years - will have been touched by his wit, his grace and his absolute talent. This is very sad news - the phrase "end of an era" is used all too often and, thus, has a tinge of 'cliché', but we have certainly lost one of the best comedians and one of the most inspirational men of our time. RIP Humph, the world will be sadder, less snarky and a lot less bright without you.

It sounds like Snagglepuss.

Since we moved into this flat, I've had to deal with Andy's - frankly, libellous - accusations that I'm hoarding teaspoons in my bedroom. I don't hoard teaspoons. I really don't. Thursday, I was browsing a curios shop for a hat stand, when I spotted a bundle of about twenty teaspoons for £3. Bargain!
Now he's complaining that we have too many.

And this is the reason men will never be bloody happy.
Have you ever heard a little white Scottish lassie rap?


I really hope Humphrey Lyttelton gets back to his snarky, jazz musician's-jazz musician's-jazz mucician's-gameshow host ways very soon. The world would suffer if he didn't.

I had an exam yesterday and it didn't suck. Booyah!
Every time I see Richard Vranch sitting at the piano on Whose Line is it Anyway, I have to go: 'Creepycreepy Rich-ard Vranch.' I don't know why. I don't hold anything against him, he just looks a bit greasy sometimes.